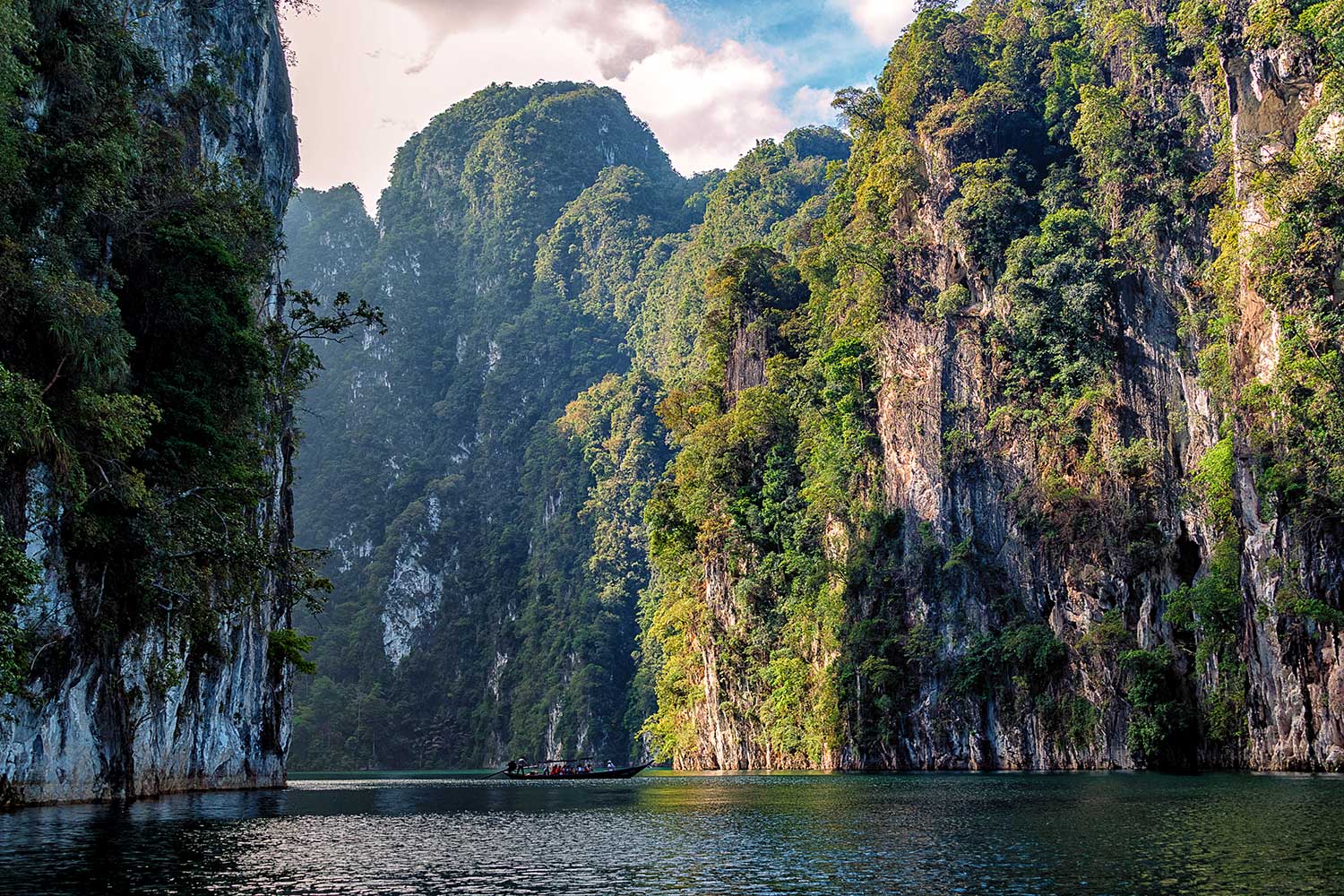 Are you traveling to Southern Thailand? A trip to Cheow Lan Lake, also known as Khao Sok Lake is a must! It is located 45km from Khlong Sok village. The famous Khao Sok Lake is situated in the center of Southern Thailand. It is well situated between the party islands of the Gulf like Koh Samui and the pristine beaches of the Andaman coast such as Khao Lak. If you take a lake tour, you will be rewarded with fairy-tale scenery and jungle wildlife. You will also enjoy the peace and quiet that comes from a remote location.
In 1982, the Ratchaprapa dam was completed in the south-western corner of Khao Sok National Park. This was the birth of Cheow Lan Lake. This resulted in the evacuation and relocation of hundreds of local people. It also stranded thousands of animals. Since then the lake has become a major tourism destination. It is renowned for its spectacular karst scenery featuring towering limestone cliffs.  The park is now renowned as one of Thailand's' best wildlife spotting opportunities.
Displaced locals were given land and also concessions to operate the Khao Sok floating bungalows. These are the modern day Cheow Lan lake hotels providing the, now famous accommodation, that draw many tourists to the area. Furthermore the many wild animals found around Khao Sok Lake include wild elephants, gibbons, leopards, and 5 species of monkey.
These articles will take you on a journey to the national park and answer your questions about the Khao Sok lake.
A Khao Sok Lake tour will take you to the floating bungalows and they are in a remote location. Of course that is a big attraction and it is an amazing place to visit. However there are things you should understand before venturing far into the lake. With this information you will have a great trip. 1. The Lake is a wilderness with changing environmental conditions, so be ready to sacrifice some convenience and comfort. The weather can change quickly, from sunny to rainy and back again. This can create delays and change the itinerary >>
The Three Sides of Khao Sok Lake Due to the topography of the area, Cheow Lan lake is a vast, irregular body of water. It was formed when the valley was flooded to create a hydro electricity plant. Because of this the Cheow Lan lake geography is quite complicated. The lake follows the shapes of the valleys and ravines that it filled. As a result it has countless bays, coves and fjord-like fingers. Spread throughout this wonderland are caves, hikes, waterfalls and incredible scenery. Lake tours take you deep into the lake. The Khao Sok floating bungalows provide >>