Khao Sok National Park trekking adventures
For guests wishing to venture into Khao Sok jungle, there is no shortage of Khao Sok trekking tours to choose from. Whether a half-day or full-day hike, overnight camping trips, or a fantastic Khao Sok night safari, there is something for everyone.  The following article will provide information on the various Khao Sok trekking opportunities available.
1. Half-day Khao Sok hike
Due to budget and time constraints, this is the most common of the available Khao Sok trekking tours in Khao Sok national park. These hikes use a network of trails maintained by park rangers.
The half-day hike departs from the visitor center and leads to Bang Hua Red waterfall. The main trail is a narrow road wide enough for pick-up trucks but there are smaller foot paths in the surrounding forest. The trails used on this hike are available to those with and without a guide and are nearly always busy.
A standard half-day hike lasts about 4 hours.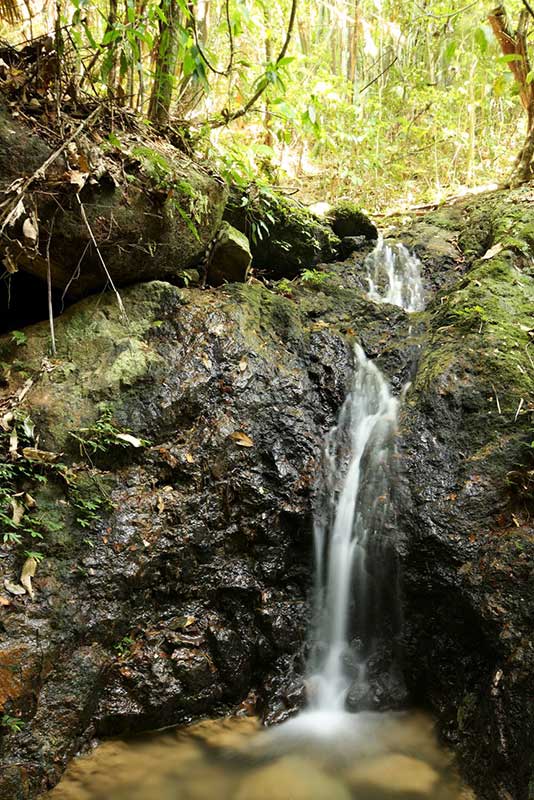 Self Guided Hike
For those interested in a self-guided hike we have a few local tips to help make the most of your time:
Once you have passed the ticket box, and walked a few hundred meters along the main trail, keep your eyes on the left hand side. Soon you will begin to see foot paths leading away into the jungle. These paths lead to the river which runs parallel to the main trail. As a result, it is possible to take these foot paths without fear of getting lost – the river will always be on one side, the main trail on the other.
There are several swimming holes and smaller Khao Sok waterfalls en route to Bang Hua Red. Our personal favorite is 'Wing Hin' waterfall. It is lovely, small and surrounded by giant boulders and secluded swimming holes.
Bring a towel, book, some food and a beverage on your hike! You never know when you will happen onto a quiet spot, perfect for relaxing and enjoying nature.
If you venture past the Bang Hua Red ranger station, be exceptionally careful. The path here gets much more difficult, and begins branching off into deep jungle. This makes it very easy to get lost. We recommend hiring a guide to explore these trails.
2. Full-day Khao Sok trekking tours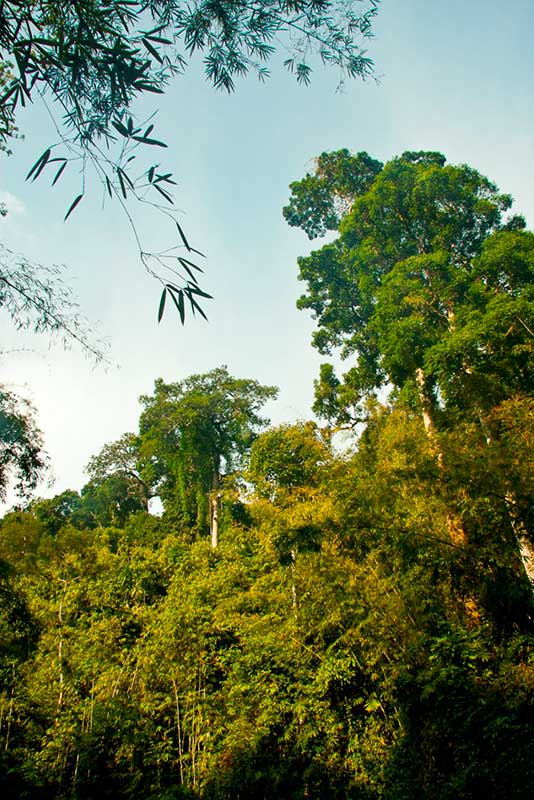 This is a must-do for anyone wanting some serious Khao Sok trekking. The full-day guided hike allows guests to venture deep into the Khao Sok jungle, and really connect with the rainforest. Lunch is included with this hike which lasts about six to eight hours.
There are two main destinations for the full-day hike. The first destination is the famous Tan Sawan waterfall. This is one of the more spectacular Khao Sok waterfalls and features a large drop over many cascading levels. It can be slippery at high water levels but is quite safe in the dry season. Truly adventurous hikers continue past the waterfall to the ridge above where the giant Rafflesia blooms.
The second destination is the Ton Kloy waterfall, high in the hills above the park headquarters. The 3-meter waterfall drops into a large pool which is perfect for swimming. The rocky beach is an ideal place for a picnic lunch.
Hiking up across the pool, a short distance up the river bank, a deep channel is revealed where the river has cut into the rocks. Ton Kloy is famous among locals as a meditation site of the revered monk Buddhasa Bhikku.

While on the full day hike guests should keep in mind that they are paying for the time and knowledge of their guide. As a result it is possible to amend the program to fit the wants and needs of individual guests.
3. Khao Sok Night Safari and Jungle-Day/Jungle-Night hike
Like all tropical forests, the real action in the Khao Sok jungle begins after dark. This is when the insects and small animals come out to feed, followed by the larger predators that hunt them. Thankfully, there are some Khao Sok trekking options that allow guests to enter the jungle at night!
The Khao Sok night safari begins around 19:30 and lasts about 2.5 hours. Setting out with a guide, guests follow the standard network of trails in the national park. Be on the lookout for the many insects and animals that call the jungle home. Commonly seen are bats, owls, sleeping monkeys, leaf insects, and stick insects. You may also see snakes, frogs and tarantulas. Less common are barking deer, mouse deer, leopard cats, slow loris and flying lemurs.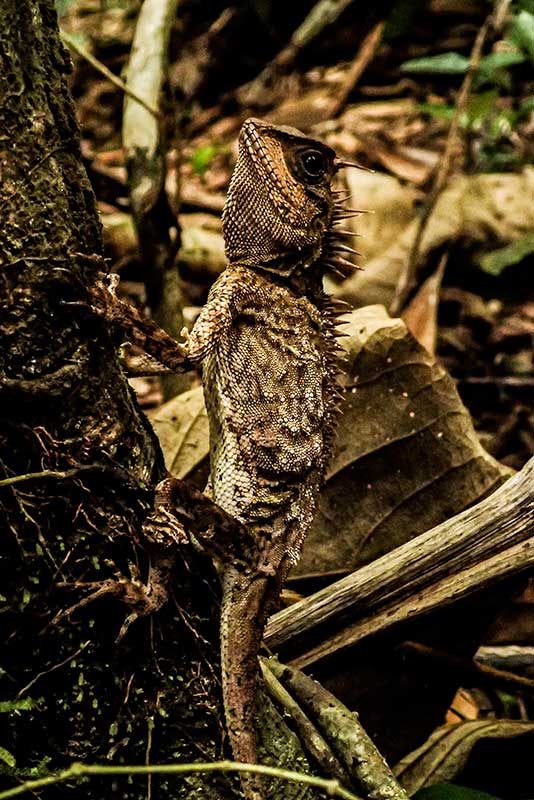 The Jungle-Day/Jungle-Night hike is a combination of half-day hike and Khao Sok night safari. Beginning around 2 p.m. this guided hike follows the standard trail system into the forest around Bang Hua Red waterfall. At around 18:00 you will make camp and the guide will prepare dinner. After a delicious, jungle-cooked meal set to the setting sun and rising sound of insects, the party begins the return journey. Trek through the darkening evening in the Khao Sok jungle. Guests return to the resort around 22:00.
4. Khao Sok Rafflesia treks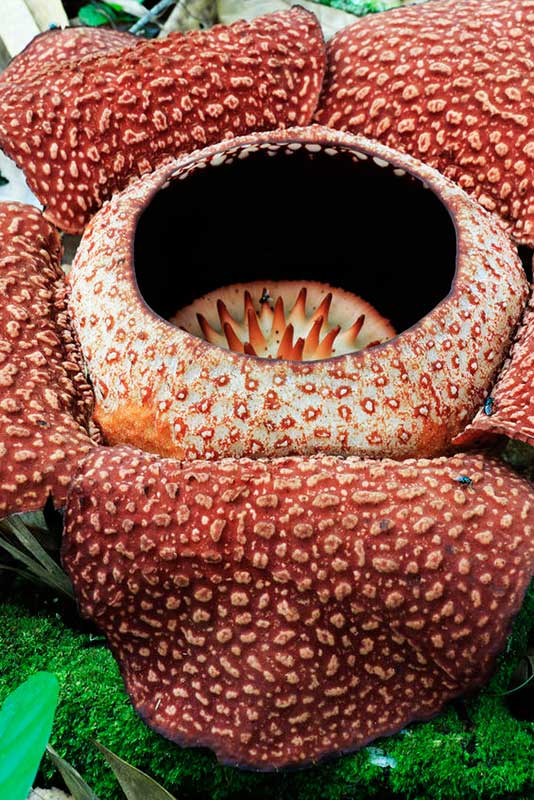 Venturing deep into national park, all treks to the giant Rafflesia Kerri are true adventures. This is due mainly to the nature of this flower: they are only found on high mountain ridges. As a result, the hikes feature steep climbs and descents. They therefore take more time to cover less distance. It is recommended that all hikers be physically fit and with, at least some, hiking experience.
There are two primary locations for Khao Sok trekking adventures to the Rafflesia. The closest trailhead begins above the main village. It is part of the larger loop to the Tan Sawan Khao Sok waterfall. This hike requires a full day and covers nearly 7km. Second is the trail beginning at the Bang Man ranger station. This trail isn't as long, and only requires a half-day. However, the ranger station is 20 minutes from Khao Sok town and requires transport to reach.
Khao Sok jungle tip: The Rafflesia Keri blooms only once per year between December and March. There is no way to know exactly when the flower will bloom. As a result, guests hoping to include a Khao Sok Rafflesia trek should plan to stay for a few days. Additionally, guests will find it helpful to inform their resort of these plans at check-in.