Whether you're here for a week-long stay or just for a couple of days, Khao Sok has no shortage of fun to offer. The national park has loads of great things to do including hikes, and lake trips.  Going beyond these traditional activities, guest blogger Fred Billyard finds four unique Khao Sok tours. Read on to discover a world of caves, rivers, organic farms, and jungle trails.
The Path Less Traveled – Khao Sok Thailand
I was lucky enough to stay for three days at Khao Sok Riverside Cottages. The friendly staff invited me to join a series of unique things to do in Khao Sok national park and the surrounding area. These activities have been developed to share local wisdom and benefit the community around Khao Sok. Currently, Riverside Cottages is the only place in Khao Sok offering these exciting and unique Khao Sok tours.
The new routes explore the more remote and untouched areas of the surrounding jungle with knowledgeable local guides leading the way. Curious explorers of these new activities enjoy incredible sights only seen by Khao Sok residents up to now.  Venture along quiet roads, narrow jungle paths and tranquil rivers that your guide will have traveled since childhood.
Are you wanting to get away from the crowds and have an authentic adventure? These are new things to do in Khao Sok Thailand.  Experience the best of Khao Sok by exploring the Thailand jungle as well as the surrounding area with the locals.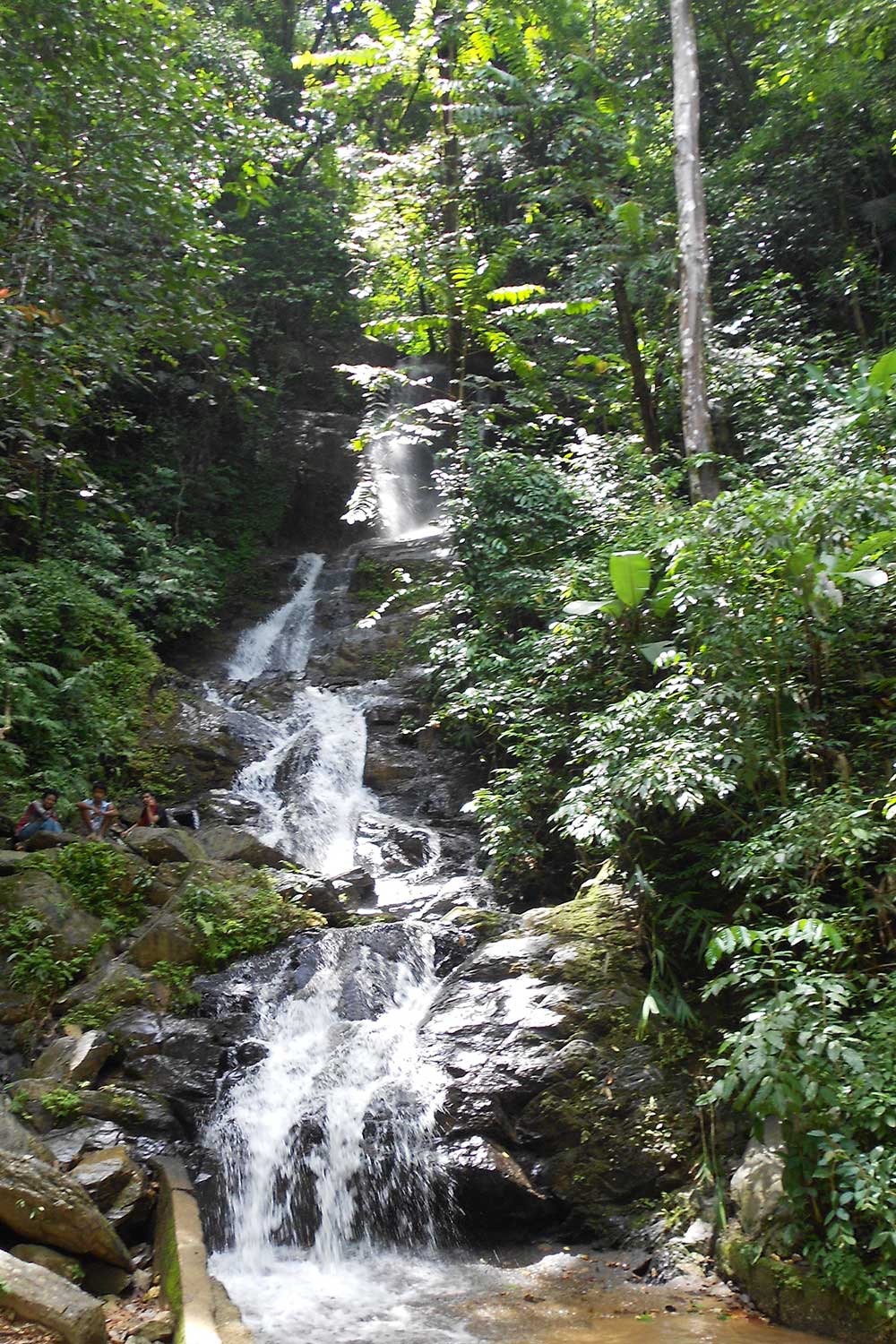 Khao Sok Thailand Bicycle Tour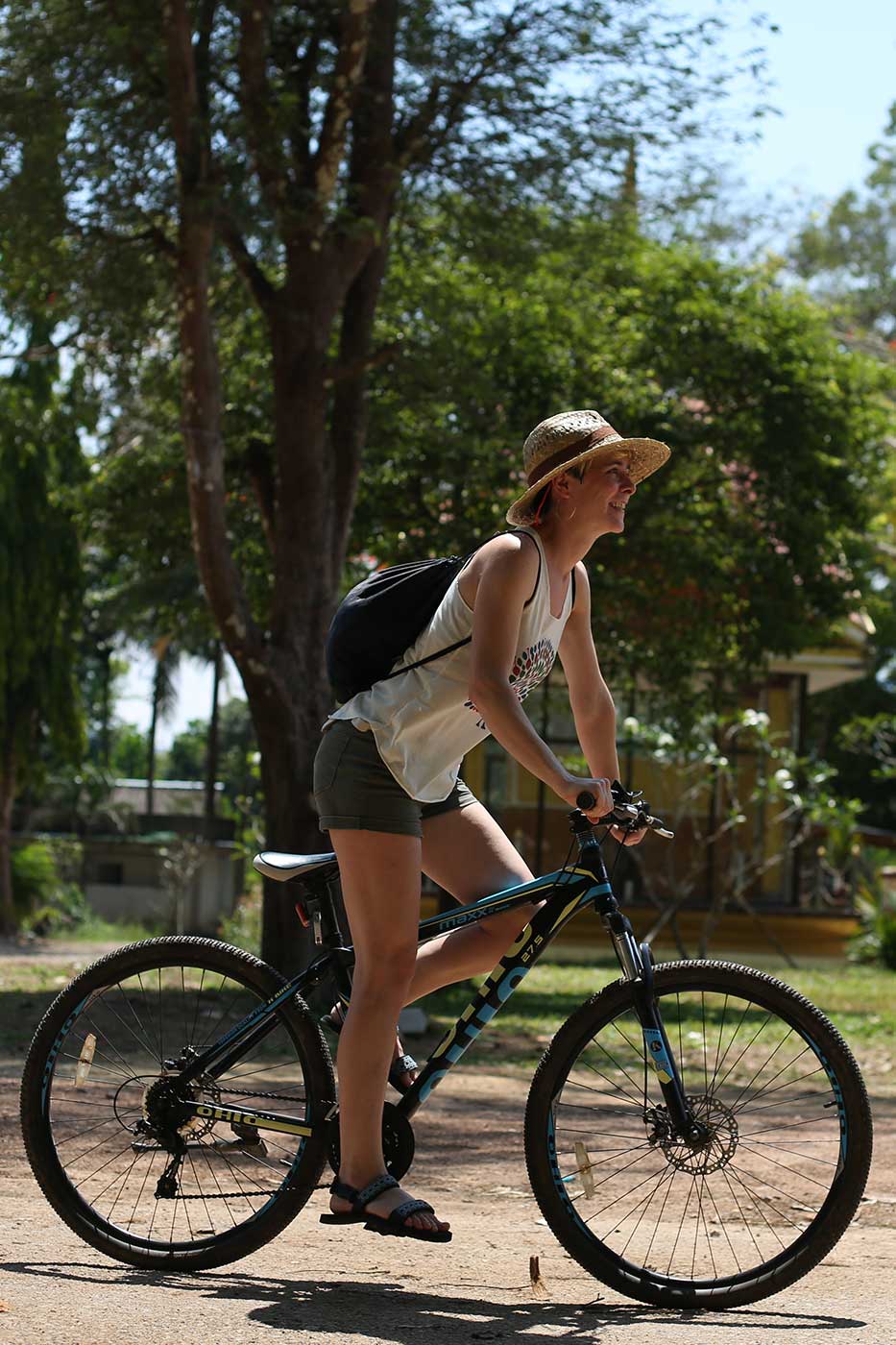 My guide greets me in the afternoon.  He will show me the lesser-known surroundings of Khao Sok Thailand on two wheels. A local who has grown up here, James is friendly with a great deal of friends around Khao Sok. This becomes clear as we ride through the village. James waves and hollers at people as we pass whilst I enjoy the cooling breeze whistling past my ears. It's 30c and typically humid, but the wind acts as a welcome, natural fan.
Throughout the three hours on the bike, James takes me to a number of special places around Khao Sok. The journey is punctuated by fun facts and outstretched arms in the direction of various fruits, animals, plants and trees.
We stop at the local school where James, his parents, and his grandparents all received their education. We also visit a family-run mushroom farm and get the chance to feed a litter of precious little piglets. Riding away from the farm, we stop for a cold drink overlooking the jungle. We then mount our bicycles for the return journey. Just before arriving back at the resort, we take a final rest break at the ornately adorned Wararam Temple. This is home to a playful troop of macaque monkeys . We wander around in the cave opposite to have a look at the impressive Buddha statues. Afterwards we watch the monkeys playing on the nearby cliffs. This is definitely one of the best activities to go for if you are looking for unique Khao Sok tours.
Canoe and Thailand Jungle Trek
Discover these Unique Khao Sok Tours
This new four-hour expedition explores the neighboring and unspoiled Thailand jungle of Klong Phanom National Park. It is also best enjoyed in the morning. It is a moderately challenging hike on a rocky, mountainous trail off the grid. Lek, a local farmer born and raised in Saphan Tao Community, guides me. My adventure begins with a peaceful canoe ride down a serene river used historically as a transport route for locals and their produce. The gentle stream winds past brightly colored birds perched on branches towards the starting point of the morning trek.
The slender trail then leaves the river and slowly winds up through vibrant overarching trees and mighty rock faces. Lek has spent his whole life in this terrain. He keeps his senses attuned for any wildlife or edible plants along the way. We keep a close eye on the land to ensure we're not caught wrong-footed by the inconspicuous vines and loose rocks. Halfway through our mountainous maneuvering we have a coffee and snack stop at a breathtaking perch overlooking the unspoiled Thailand jungle below.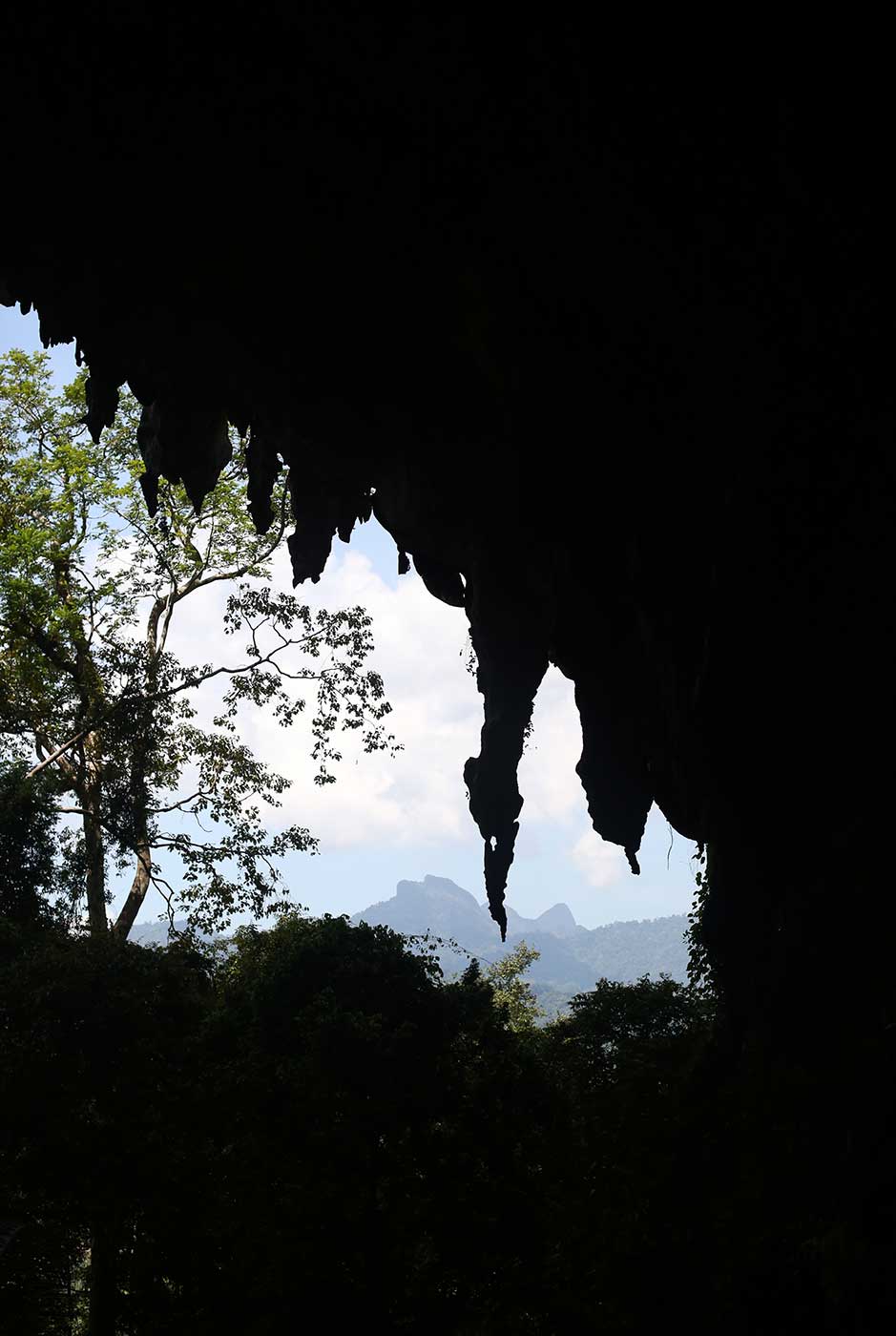 After completing our hill climb, we enter the vast, 65 million-year-old Tam Gao cave. Previously inhabited by indigenous mountain tribes, the cave still bears evidence of the fascinating ancient rituals they practiced. Avoid stalactites and get a better view of the dramatic limestone formations by wearing a headlamp. We later emerge from the cave and descend through the jungle on a fun and challenging rope-led route. Depending on the time, and your interest, you can end the tour with a visit to Lek's farm or the nearby temple before heading back to your accommodation.
I really felt privileged to be introduced to these local highlights. Being guided by a local made all the difference.
"Hidden Trail" Jungle Trek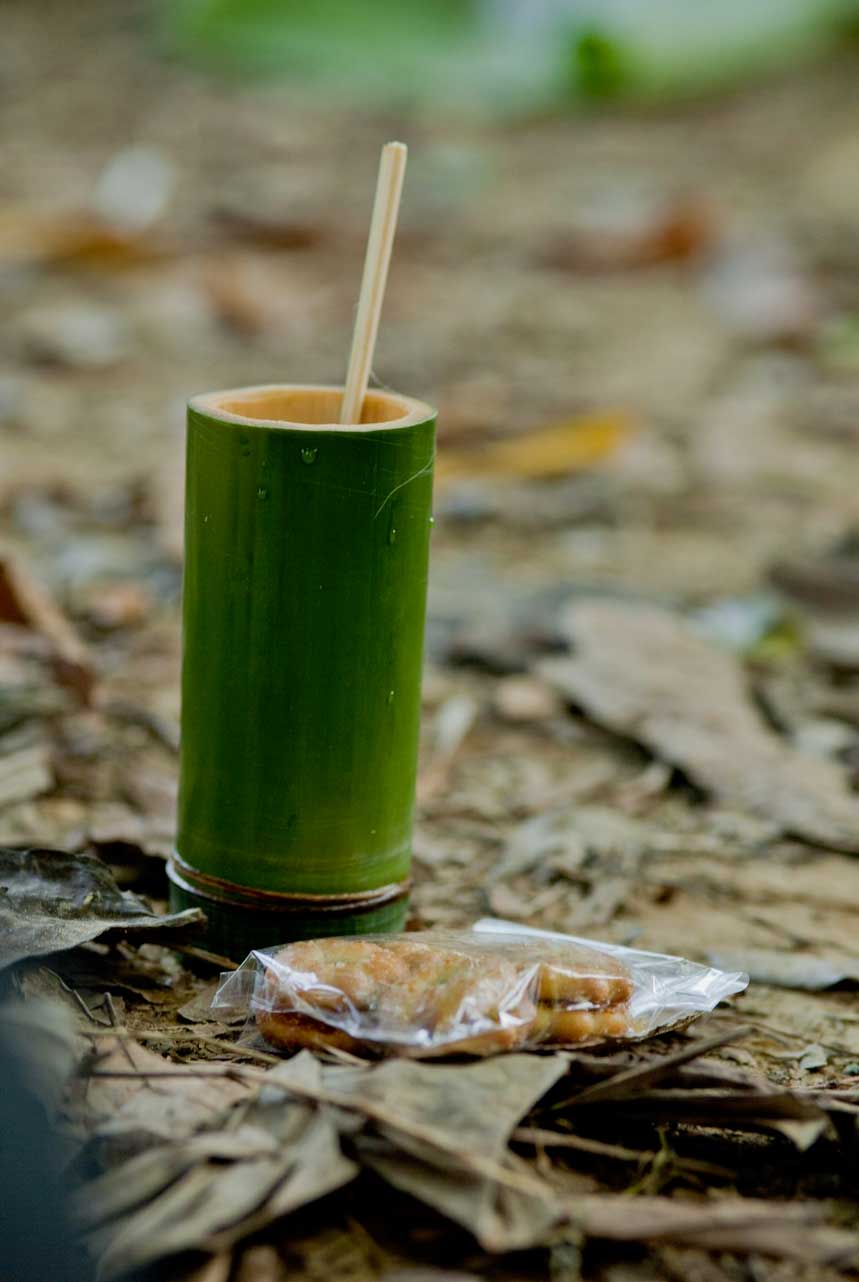 My guide welcomes me to his home and feeds me a traditional Thai snack before I embark on this woodland adventure. He is a local farmer and prides himself on his homemade Banana Flower Tempura which fills me up for the journey ahead. We soon leave and make our way through the rubber and palm trees and deeper into the vegetation. The starting point of the trail is found nestled amongst the towering leafy plants and rocky cliffs that overlook Khao Sok, Thailand. I'm treated to sights of rare insects, fruits and flowers with the help of my guide's sharp eye.
I enjoy navigating under some of Klong Phanom National Park's most spectacular overhanging cliff edges. My guide shows me where this part of the village sources water for their homes and fruit farms.  We also take breaks to observe our remarkable surroundings and use the time to make a fire. My guide then cuts down some wild bamboo with his machete, cutting it up into sections. He fills the largest section with water, places it in the fire, and carves cups out of the remaining bamboo while waiting for the water to boil. Five minutes later we sipping freshly made jungle tea and my guide tells me about encountering wild tigers in these mountains as a child.
This perfect half-day afternoon trek leads you into the 'real Thailand jungle'. It is also not too challenging, too steep or difficult. This Hidden Trail hike is for those looking to see something different and delve into the untouched heart of this region. Remember to wear clothing that will cover as much as possible, particularly in the leg area and watch out for those harmless but pesky leeches!
Combine with the Thai Cooking Course
Combine this with the Thai Cooking Course experience and therefore enjoy a full, authentic day out.
Find out more about these special Khao Sok tours here
How to book these Unique Khao Sok Tours?
These activities are only available through Khao Sok Riverside Cottages. They represent some of the most unique things to do in Khao Sok. It was a pleasure to get a new perspective of the area. I also discovered that to get the most about Khao Sok you had to spend time with the people of the area. It was great to see that these activities were run by the local people and also benefited the local economy. Find out more – Contact Khao Sok Riverside Cottages.