Dwarfed and outshone by its infinitely more-famous neighbor, Klong Phanom national park remains virtually unknown to all guests to Khao Sok. This, despite the fact that it is only about 15 minutes down the same highway as Khao Sok national park! If you want top hike less trodden paths, maybe it's time you explored Trekking in Klong Phanom national park.
Part of the reason for Khlong Phanom's obscurity is the topography. The park is almost completely covered in soaring karst mountains or limestone cliffs. Any hike here therefore involves steep climbs. However, for the experienced, fit adventure-seeker, Khlong Phanom national park offers a chance to get far off the beaten path. Here, in undisturbed parts of the Khao Sok jungle, it is still possible to see true marvels.
It will be necessary to book a guide for any hikes into Klong Phanom. It is relatively easy to book through a competent resort.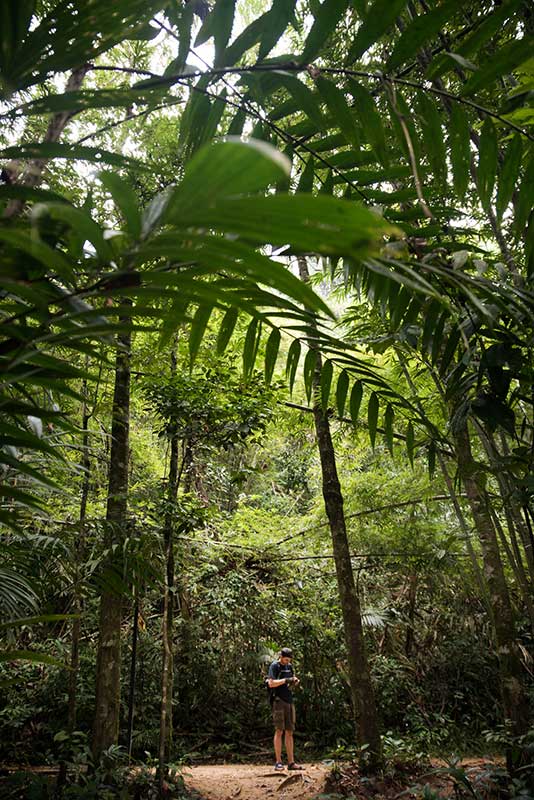 Things to see Trekking in Klong Phanom National Park
Trek to the giant bamboo – The 'Chiang Ruun' bamboo is the largest species in Thailand. It is especially worth visiting in this park. Guests can reach the Chiang Ruun groves in just a few hours.
Caves
Also worth a day is the 'Tam Lord Gaeow' cave hike which features steep, ladder-assisted assents. The hike ends at the "Glass straw" cave where you can see great cave formations as well as a unique tunnel-like chamber.