Discover less known, special Khao Sok tours
These special Khao Sok tours are a chance to step away from tourism and into local life. Go into seldom-seen parts of the jungle with a unique  jungle tour instead of the normal half-day hike. Why not learn about the people that live here? Make local friends in Khao Sok village and get a better understanding of the places that you visit.
Take a special canoe trip, float down the river and then hike in the jungle to a huge cave with incredible rock formations.
How about a bike tour? This is no ordinary ride – meet up with a local and ride together on beautiful country roads. A 10 kilometers journey among incredible mountain views. Visit a family-run organic farm.
Looking for something different from high energy mountain trekking?  The "Hidden Trail" hike is a more relaxed Khao Sok jungle hike. At the same time you will get to know the locals. Treat yourself to an introduction to real local Thai culture. reward yourself with delicious tea brewed up in bamboo.
Experience more of the area with unique Khao Sok jungle tours and Khao Sok village interactions.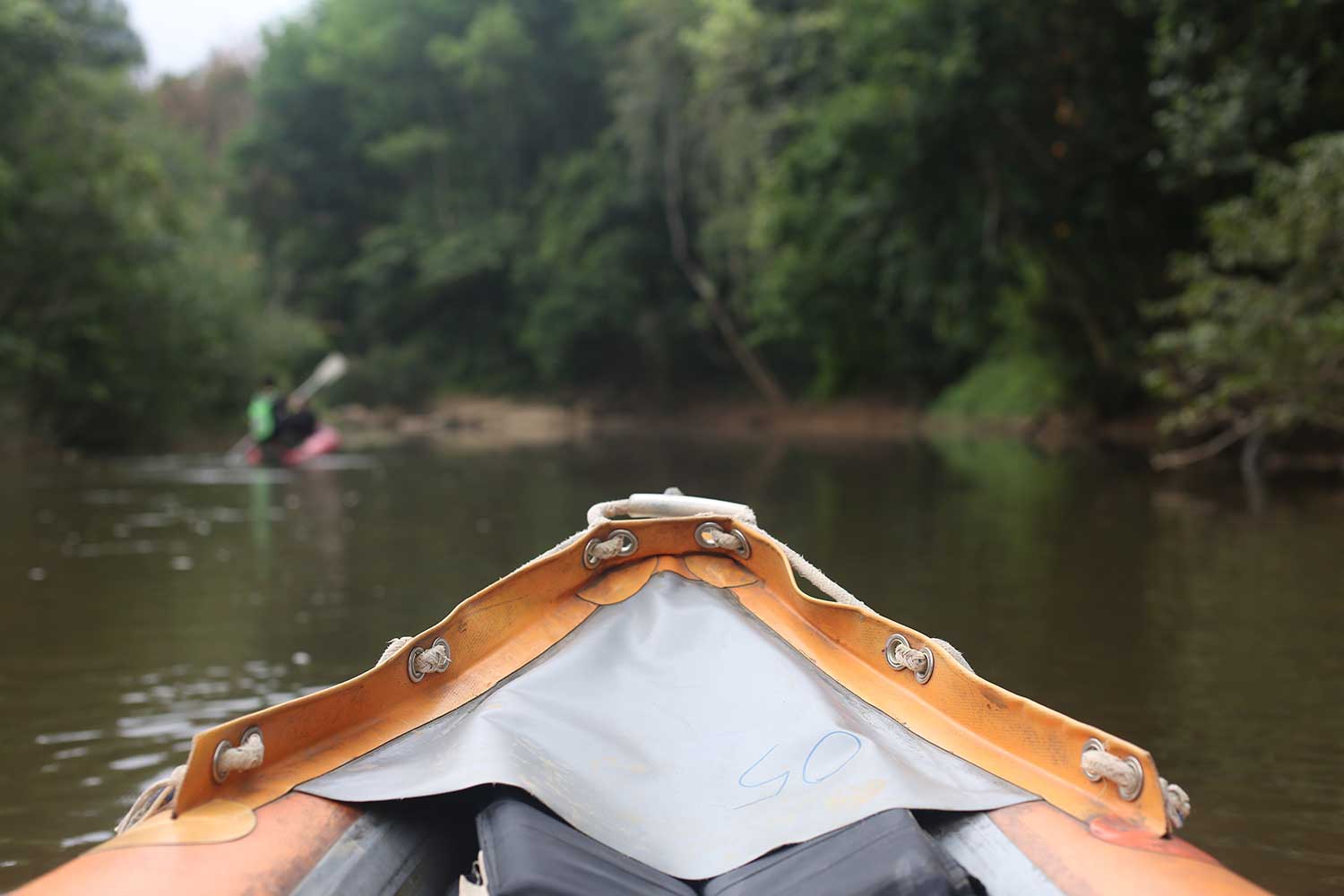 Tour 1. Canoe Trip & Jungle Hike
With cave visit
Why is it different?
This Khao Sok jungle tour is only available to those with inside knowledge. Luckily we can share it with you. It is an alternative to the standard half-day hike. It includes a canoe trip followed by a hike with cave exploration in a remote, seldom visited area. We finish with a tea/coffee break by the river.  Only 100 Baht more than the half-day hike, but much more exciting and rewarding!
What's going on?
This activity begins with a beautiful canoe trip with brightly colored birds and wild fruit hanging from jungle trees along the riverbank. Your guide will point out unusual sights, such as giant toads and, if you are lucky, monkeys playing in the trees. After 20-30 minutes in the canoe, pull over to side of the river and get out of the boat for a hike.
Walk through a traditional Thai rubber orchard and then into the jungle. Your guide is a Khao Sok resident and he will show you wild plants that can be eaten and used to build shelters. Continue on up the hill to the base of a huge limestone cliff and explore a very unique cave.  The cave is quite large and, as you wander through it, you will discover incredible hanging rock formations. Discover sparkling waterfalls and even a stalagmite in the shape of a Buddha! You will also learn how people used to cook in the cave during olden times.
Leaving the cave, hike along the base of the cliff and back into the jungle. The trail leads to a Buddhist temple and cave lined with statues. The "Cave of the Good Disciple" is a great place to soak in the spiritual tradition of Thai forest temples. The tour ends with a short drive back to your resort. Tours are on a join-in basis, up to 8 people per group.
Canoe & Jungle Tour Details
Duration: 8:30am-12:00pm
Difficulty: Moderate hike (short, steep hill & uneven rocks).
What to Bring: Good shoes, bug spray, flashlight for the cave, plenty of water.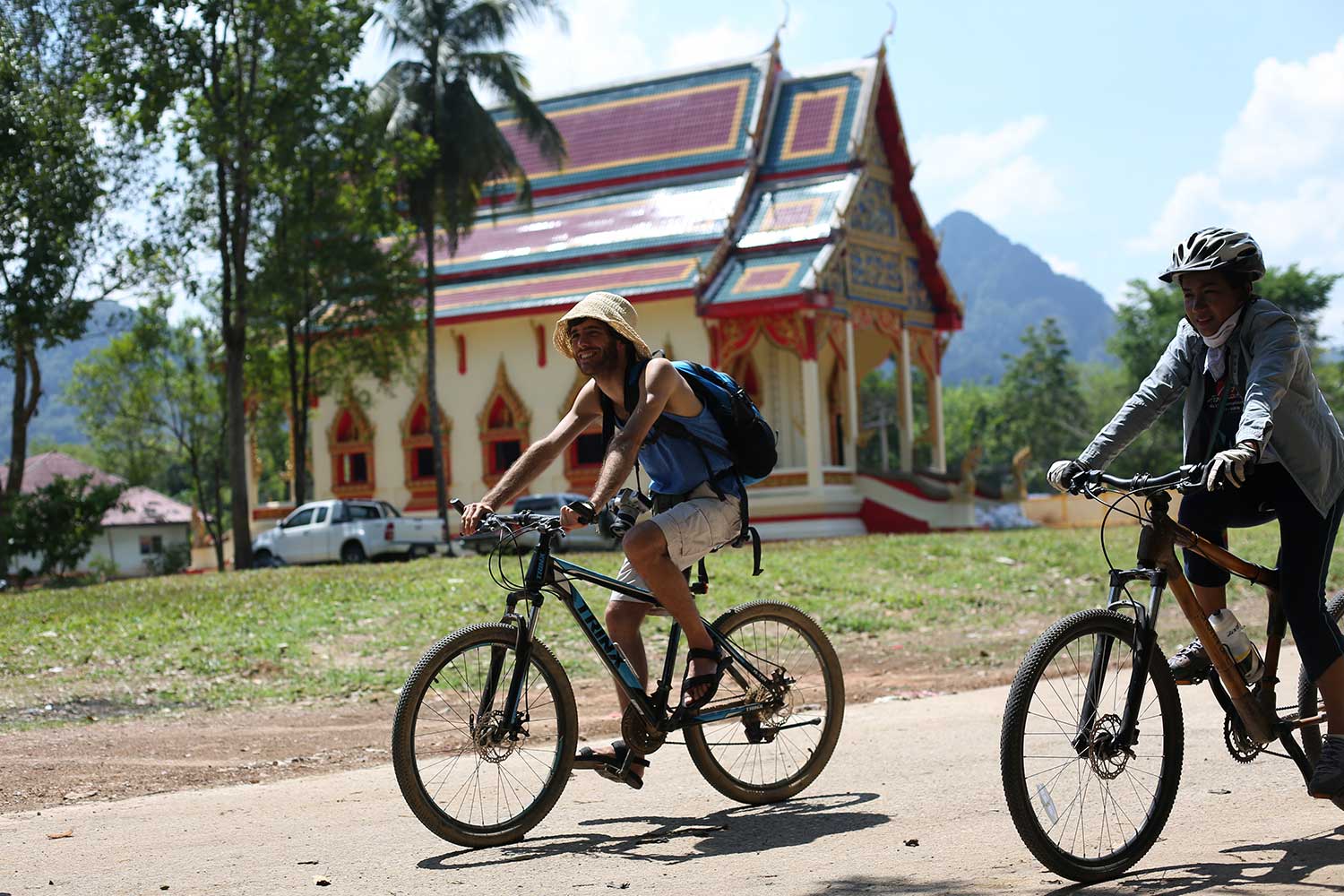 Tour 2. Khao Sok Bike Tour
With Organic Farm visit & Monkey Temple
Why is it different?
This activity is for those who love biking and want to explore scenic back roads. It is a perfect way to get beyond the touristic spots and experience the beauty and wisdom of Thai culture. The ride features rest stops at the monkey temple, the local school, and an organic farm.
What's going on?
The bike route begins with a gentle hill out of Khao Sok village, and a stop at the schoolhouse to see where the local kids go to study. Turn down "Honey Cave" Road and ride for 3km to visit a family-run organic farm. See how they grow mushrooms, raise catfish, and meet the cutest pigs in Thailand! Walk with the family through a fruit orchard and learn about what daily life is like in Khao Sok. Take a break for cold drinks and some relaxation by a beautiful pond.
Riding back towards the Khao Sok village, you will pass scenic rubber and palm orchards and have a view of the tall mountains and jungle hills that Khao Sok is famous for. The bike tour ends with a delightful visit to the monkey temple. Watch monkeys running and climbing as they go back and forth from the cliffs to the temple grounds where they like to play. Explore the temple's Buddha Cave and ornate chapel. You can also pay respect to the monks and see from afar where they live. On your way back to the resort, enjoy the beautiful view of Three Sisters Mountain as you cruise back into Khao Sok village. Tours are on a join-in basis, up to 8 people per group.
Khao Sok Bike Tour Details
Duration: 9:00am-1:00pm
Distance: 10km with 1 small hill.
What to Bring: Comfortable shoes and clothing for exercise, hat, sun lotion, and water bottle.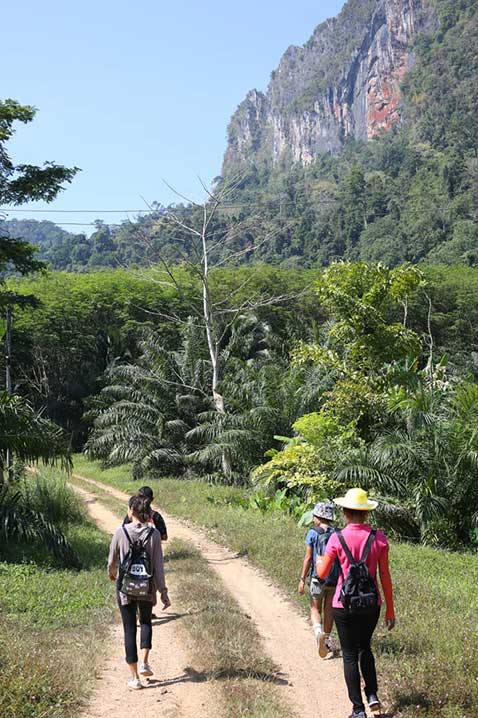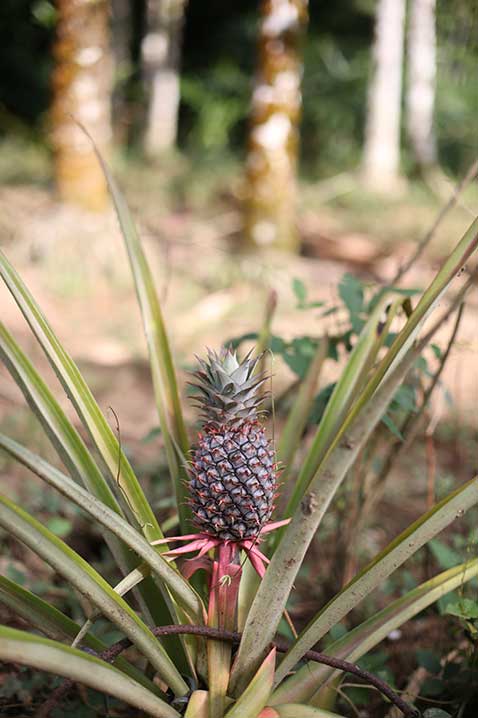 Tour 3. Hidden Trail Tour
Short Hike with Bamboo Tea and Farm Visit
Why is it different?
This Khao Sok jungle tour is more a relaxed way of hiking out into the wild.  Also explore Thai culture and make tea in bamboo. Walk through the thick jungle along a small trail (unlike the wide trail used for the normal half-day hike). Continue along the base of the scenic cliffs and arrive at a traditional Thai farm. It is also 100 Baht less per person than the normal half-day hike.
What's going on?
This hike is for those who want an easy going Khao Sok jungle tour with not a lot of obstacles or for families with younger children. Walking in the jungle you will truly be in the wild but the path is clear and not too steep. See beautiful flora such as wild mango trees and keep an eye out for monkeys in the canopy above. The only sound you hear is that of nature with its' birds and crickets. The guide will show you how the village gets its drinking water from the stream.
Take a rest break while the guide cuts some wild bamboo and chops it into different lengths. After making a fire, the guide will fill the longer bamboo sections with water and place them in the fire to boil the water! Then, the shorter pieces of bamboo are used as cups to make delicious jungle tea.
Emerging from the jungle into the sunshine, walk alongside the tall limestone outcroppings and through a rubber plantation. Learn how locals extract the sap from these trees to make latex. The tour ends with a visit to a local farm full of exotic fruit trees – coconut, tamarind, lime, and cashew.
Hidden Trail Tour Details
Duration: 3 hours
Level of Difficulty: Easy
What to Bring: Hat, water, good shoes for walking (no sandals), comfortable clothing.
To get the most from your visit to Khao Sok, these special Khao Sok tours will let you experience much more of the area. The Khao Sok jungle tour is relaxing and off the beaten track. It is always rewarding to meet the local people from Khao Sok village.
For information on how to book these tours
Contact Riverside Cottages
HERE