The Three Sides of Khao Sok Lake
Due to the topography of the area, Cheow Lan lake is a vast, irregular body of water. It was formed when the valley was flooded to create a hydro electricity plant. Because of this the Cheow Lan lake geography is quite complicated. The lake follows the shapes of the valleys and ravines that it filled. As a result it has countless bays, coves and fjord-like fingers. Spread throughout this wonderland are caves, hikes, waterfalls and incredible scenery. Lake tours take you deep into the lake. The Khao Sok floating bungalows provide lake accommodation. The lake has three main sections.
East Lake
The eastern section of Khao Sok Lake is home to the famous Ratchaprapa Dam. This is also where you will find most of the "modern" style floating bungalows. The majority of the lake's most dramatic karst mountains are in this area. As a result, there are less wild elephants, red bull, and other ground-dwelling species of wildlife. Two rivers, or 'Klongs,' help form the eastern part of Cheow Lan Lake.  These are Klong Long, and Klong Kha. Both of these Klongs are home to Khao Sok national park floating bungalows, and feature a few natural attractions as well. A Cheow Lan lake tours to this part of the lake will likely include a visit to one or two of the following:
Diamond Cave
Coral Cave
Guilin scenic area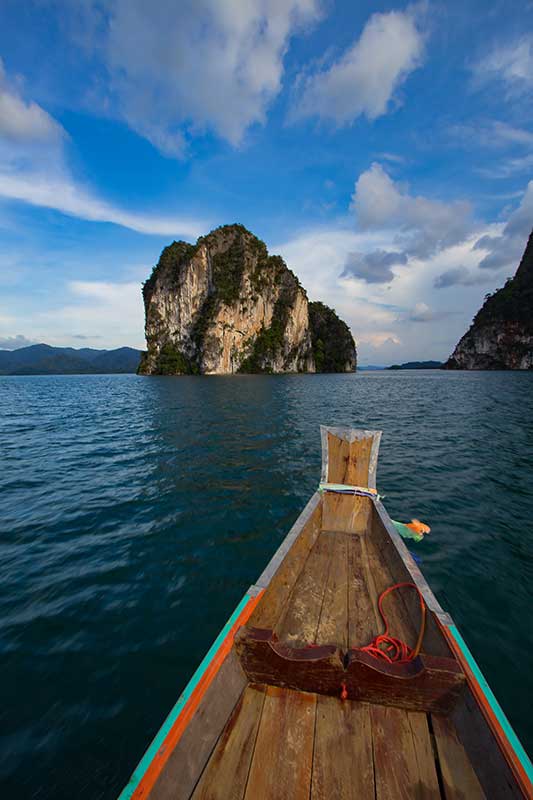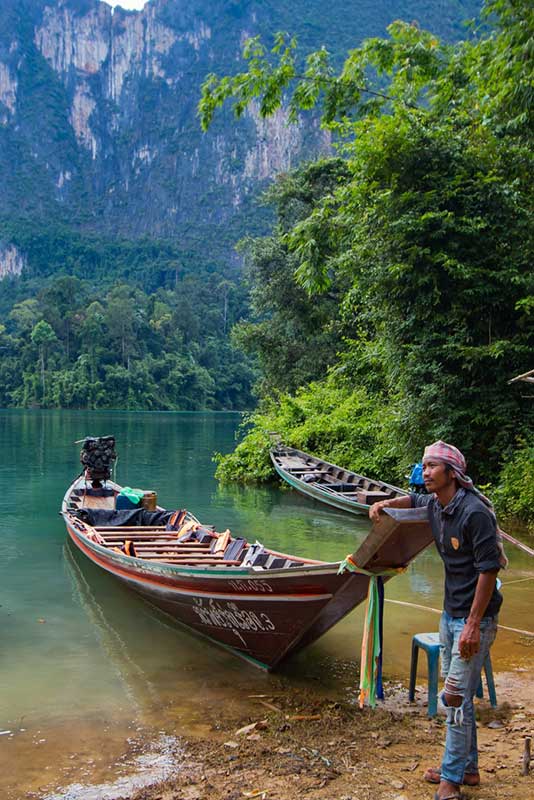 West Lake
Heading west along Khao Sok lake brings a heightened feeling of remoteness. The added time and expense necessary to get to this area means that is less popular with casual visitors. This means less Cheow Lan lake accommodation here and more peace and quiet. This is how the real Cheow Lan experience begins: fewer tourists, increased wildlife sightings, and a more authentic experience! The western section of Cheow Lan Lake contains three Klongs: Klong Yee, Klong Mon, and Klong Pey. Guests on a Khao Sok lake tour based in this part of the lake will enjoy a proximity to the following:
Nam-Taloo Cave
Khao Sok Lake viewpoint hike
Tam Gia nature hike
Klong Saeng Wildlife Sanctuary
Klong Saeng
The north-western most area of Khao Sok Lake, Klong Saeng is currently a protected wildlife sanctuary. If you are looking for a Cheow Lan lake hotel here you are out of luck. The floating bungalows that were once based here have closed. Additionally, foreign visitors are no longer allowed to remain in the sanctuary overnight.
You can still visit Klong Saeng, however, and it provides the best opportunities to see some of Thailand's most impressive wildlife. Due to its remoteness, finding a Khao Sok lake tour that guides guests through this part of the lake is difficult.
However, guests willing to spend a bit more time and money will find that Klong Saeng does not disappoint. Animals that can be seen in the wildlife sanctuary include: wild elephant, gibbons, Sambar deer, sun bear, gaur, pig-tailed macaque, langurs, and hornbills.